For some reason, I have a major problem with this:
No, not the table, not the chairs, not the runner, not the vase and not canisters. It looms above the table, like a flying saucer...
I'm not sure what to make of this light fixture. The minute we moved into the condo, the place seemed as if it needed no updates, but this light fixture just really irks me! Perhaps it is just my own urge to put my stamp on our new place... But I think that I just really dislike it! The more I look around though, the more it seems as if this
is
a contemporary light fixture. Perhaps I am just being picky. One big problem I have with it is function. The pictures above can be deceiving but this pendant lamp only has one small wattage light bulb and, for this space, it just does not give off enough light. Another problem is superficial. To me this just is plain ole ugly with a capital UG! So, while replacing this light fixture is not a priority, I've spent the last year looking at new light fixtures at what seems like every single store where lighting fixtures are available. The problem is, my taste apparently clashes completely with my husband's. There were only two lighting fixtures we really liked together, and as discussed below, they just would not work.
Here are all the veto's I had received on my end: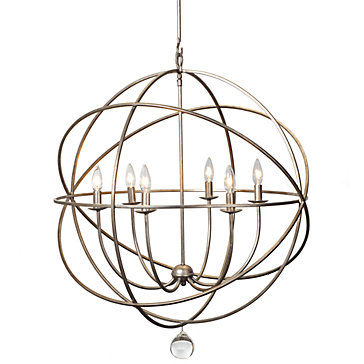 Eclipse Chandelier from Z Gallerie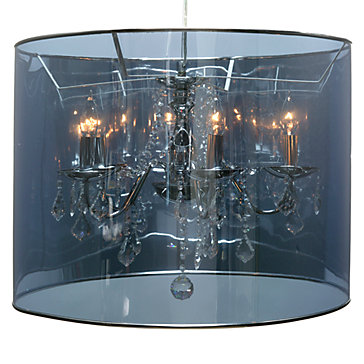 Erto Chandelier from Z Gallerie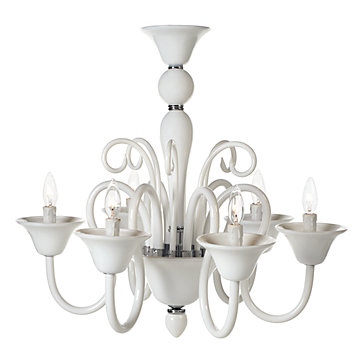 Calais Chandelier from Z Gallerie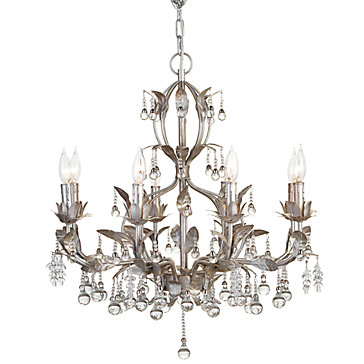 Bellina Chandelier in Platinum from Z Gallerie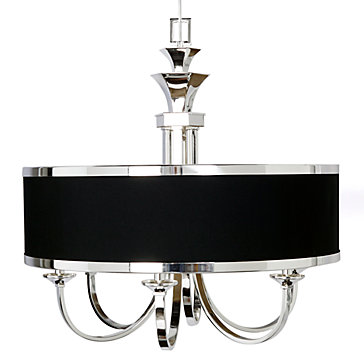 Tuxedo Chandelier from Z Gallerie
Orb Six Light Chandelier from Ballard Designs
Clarissa Glass Drop Chandelier from Pottery Barn
Here is what I vetoed:


Talia 9 Arm Chandelier from Ballard Designs
I just did not like the style or little shades on it! Maybe it'd be better without the tiny shades...
And here's what we both ended up liking:
Bellora Chandelier from Pottery Barn
Polished Nickel Scroll Chandelier, 8 light, from Shades of Light
But neither of these works either. With the first one, some friends of ours actually have this in their home and it just seemed too formal for our open layout. The second one we liked was a definite no because it costs THREE THOUSAND, FOUR HUNDRED and TWENTY-FIVE DOLLARS! Noooooo way buddy! Nope! Not going to happen! That's as much as a dining table or china cabinet with our budget and, even then, that is stretching it a bit far! I can't even figure out what the heck makes it so expensive. Is it solid white gold on the inside of that polished nickel, with a silk shade made from a extinct subspecies of rare silkworms? Who knows! Too bad, that is my absolute favorite one of them all so far. It's so stylish and modern but still simple, elegant and not too elaborate.
Oh well, the search for the perfect light fixture continues. Hopefully we will come across one that matches our combined style as well as this last one. At a fraction of the price of course!