Well, I never knew when I got
this fortune cookie fortune
a while back how right it would actually be! I found out my husband and I were expecting earlier this year and could not be more thrilled. Among some of the changes coming was a change in my wardrobe.
The first thing I noticed was that, even before you start showing, your pants become really, really uncomfortable. At least when sitting, I noticed I had to unbutton those things while I sat to be comfortable! Unfortunately, when I was savoring some Doritos during my lunch hour, and prior to my telling everyone we're expecting, a friend walked in on me with my pants undone, finishing up my chips! As embarrassing as that was, it got worse when I had to get up and head to a meeting with her and noticed my pants were still unbuttoned and unzipped! Yikes! Luckily my shirt was just long enough to cover it and I was able to zip/button them up while I sat in the meeting. Sheesh! So, even though I had popped out yet, I knew pants were going to be a problem. Two solutions I found were to get a
bella band
-- which holds up your pants while they're unbuttoned, thus helping you make the most of your wardrobe, and caving in and buying some maternity pants. Luckily, there are soooo many cute options and I got some comfortable black skinny ankle pants from Old Navy! Who knew how many cute maternity options there were out there? And here comes my confession, I never thought I'd say this, but I LOVE THESE PANTS! The waistband is stretchy but it's all stylish beneath that.
These
are the ones I ended up buying.
So, in an effort to save money on having to buy a whole new wardrobe, I've also been stretching (literally) my current wardrobe. One way is to use the bella band with my regular pants and another is to continue to wear my jersey dresses and tights. Dresses can go a long way in pregnancy if they're a bit stretchy. Also, I've noticed a lot of our favorite stores for basics, like GAP, Old Navy, etc., also carry maternity clothes, so you don't have to spend a lot in specialty maternity stores (A Pea in the Pod or Mimi, or Motherhood). These every day stores also carry the cutest trends for less in maternity! Score!
Another thing to consider is that you'll want to find some stuff that you can wear when you're still trying go get back to your post-baby bod. So I've put off finding any maternity tops just yet and have invested in some tops that are cut a bit bigger and on sale from
Anthropologie
. Check out the Amira Henley (bought it!), the Sunburst Latitudes top (bought it!), the Hestia and Sweetheart Peplum tops (want them!), the Sequined Placket Henley (bought it!) and the rest of the cute tops on sale (want them!). These are clothes that I know I will wear after baby's here too -- but maybe less often to avoid spit up, poop and pee!
Here are some of my favorite places that sell maternity wear. You can walk into some of these stores but there are a lot of cute online shops as well. If you shop online you'll love some of these options also!
Old Navy
GAP
Nordstrom online
These 6 are only my top favorite places to browse so far (I haven't bought much yet), but I've also seen cute things at Amazon.com, A Pea in the Pod and Motherhood Maternity. Boy does Isabella Oliver know how to make a maternity dress! I think I could even wear some of those post-baby!
Also, in the spirit of keeping things budget friendly, I love the idea of buying things from non maternity stores that you can grow into and also use afterwards like the tops from Anthropologie above and some
dresses I've seen at Ann Taylor!
When they're made of spandex, polyester and/or jersey, you know they'll grow with you. Also check out versatile wrap dresses which you can grown and shrink with! There are quite a few Ann Taylor dresses I'd look forward to growing into.
And of course, here's my maternity muse: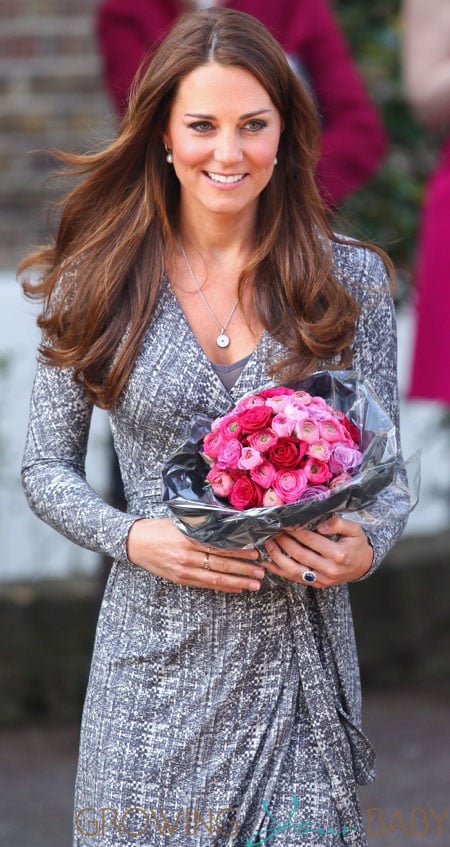 photo courtesy of growingyourbaby.com
Always chic, always polished, always poised. I love this lady's style! It's much nicer to see someone dress well for their figure and mix affordable fashion with her higher end looks. As much as I like some of the other pregnant celebs out there, I sure don't want to dress like them.
See what I mean? Too loose, too tight, too low cut, and too much! These outfits just have a lot going on when a pregnant woman already has a lot going on!
So here's where I am now:
At almost 4 months in (next week) I've found a few favorite wardrobe pieces to keep stylish while remaining comfy!
Here's a second photo to showcase the actual bump, since I think the top up there does a great job hiding it!
So here's what's going on with my outfit. I got the top on sale from Anthropologie, which isn't actually maternity but works for maternity and also for post-baby. It's stretchy and comfy. The pants are pink corduroys from GAP and those gold loafers are also from GAP. Can I just say, those loafers are some of the most comfortable shoes I've ever worn, even in comparison to other flats! With expecting comes a lot of body changes and I'd heard of my feet swelling but I didn't know that shoes could just irritate me, swelling or not. With my feet hating most of my cutest heels and flats these days I needed something stylish, cute and comfy to wear for a while. I got these in my normal shoe size (didn't have to size up) and they work wonders! Another tip I picked up from reading endless reviews on maternity pants is to go one size up from your normal size when ordering. While even maternity pants in my own size fit really nicely and are stretchy and a bit loose, going one size up allowed me to wear these now and later on for a long time. I definitely notice they're loose enough that I have to pull them up occasionally throughout the day which I think is a great sign this tip works!
Any other helpful maternity clothing tips out there? I could use as much advice as I can get!