Taking a break from my fashion and style love, I've slipped into mommy mode for this post. With only a month and a half to go before my baby's first birthday, I realized how quickly time has passed. Just this time last year, I was about eight months pregnant! I can hardly believe it. The sayings are true, they really do grow up fast.
Since I am a bit of a planner (not to anal but not too lax), I like to start looking at things and doing my research well beforehand. I actually starting thinking about this back in May! September will be upon us before I realize it and our little man will be one year old! *Sniff Sniff* I'm going to miss all the cuteness of the infant phase but am looking forward to watching our little one grow. Even though I reminisce about the earlier baby days, every new phase of our son's life is an awesome to experience.
Here are some photos from when baby was a newborn and within his first month.
Such tiny little feet! And what skinny legs. Those filled out quickly…
Tiny hand!
Here are some photos of his moving and shaking in the last month. We had to move on to buying some baby proofing gear, especially cabinet locks, pretty soon after he started to crawl. He's become such a little explorer.
I knew we were in trouble when he could reach cabinet knobs while in his walker, but before he was crawling.
He has a knack for pulling himself on the window, doors and walls and pretty much anything, including people's legs.
Baby loves to explore boxes we've broken down from packages.
He loves to snuggle our bathmats because they're so fuzzy!
Sometimes a baby puppet show on youtube helps keep him in one room. Sometimes!
I gathered some of my favorite ideas for baby's first birthday parties on a board in my Pinterest account. The themes ranged from colors, to balloons, to animals to stories and more. I finally settled on most likely having a Peter Rabbit theme though and love all the cute little ideas related to it. In my journey pinning, I've also run into a few very cute ideas that would work for any theme and create a stand out party while adding that sweet homemade touch!
1. Smash Cake
Including a separate small cake for baby to dig into after everyone sings Happy Birthday is a great idea. He can have his cake and eat it too while all the guests get to enjoy a separate non-mushy and baby-hand-free cake! This is something I think I could easily make. Even if I get the main birthday cake and/or cupcakes from a bakery. Let's be honest, as much as I'd love to do everything from scratch (and I know I definitely could) I don't want to have to stress out too much on all the details or spend all the time leading up to the party making decorations, cooking and baking. But a smash cake? I could definitely try this one!
Photo courtesy of whattoexpect.com
2. Buying a Fondant Cupcake Topper
If you like the look of those pretty fondant cakes but don't want the fondant cake price (some places charge over $100 for a simple small cake!) for your baby's special day, another option for anyone looking to save some money is to buy a simple style cake from a local bakery or make one yourself and just buy a fondant cake topper that goes with your theme. I was shocked at how many fondant cake toppers you could find on Etsy. They even have them in a Peter Rabbit theme as well as smaller ones for cupcakes! So you may also choose to bake some cupcakes and buy cute little fondant cupcake toppers that go along with your theme.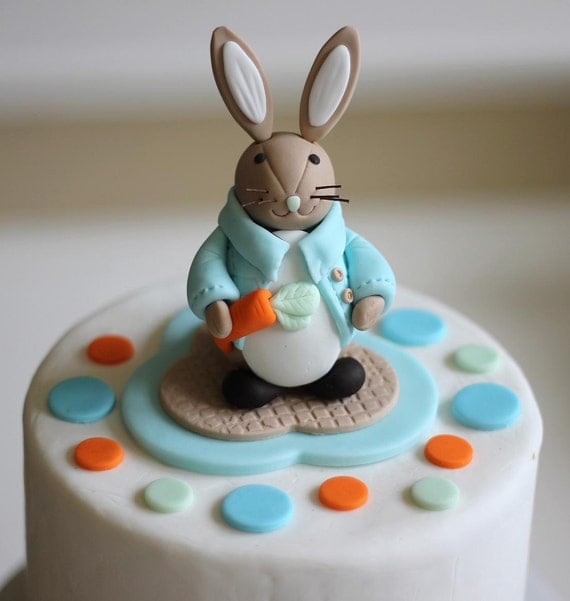 Photo courtesy of Etsy.com
Buy this cute Peter Rabbit fondant topper from LesPopSweets on Etsy.com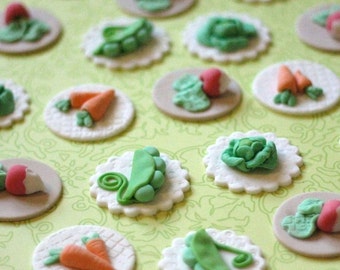 Photo courtesy of Etsy.com
Buy these cute fondant cupcake toppers also from LesPopSweets on Etsy.com
3. Making Tissue Paper Pom-Poms for Decoration
I think this one is pretty self explanatory. There are so many internet tutorials that show you how to DIY pom poms for decorations. These look so cute in a garland across the main food area or hanging above the cake table. I actually found that there are DIY pom pom kits available on Amazon.com also so you can buy the supplies together in one easy kit that is sold by the color instead of buying the components separately. It's genius for anyone who needs every last shortcut out there!
photo courtesy of shoptomkat.com
4. Paper Straws
These cute old-timey straws look great and can not only be used as straws but also as cake toppers. Take two and string a small banner with baby's name across them. This is a cute little DIY project that evokes a super sweet, rustic and homemade, yet oh-so-chic and modern style. Another great hint is to use these as a cake topper with some
decorative scotch tape
cut in the shape of little flags (see the second image below).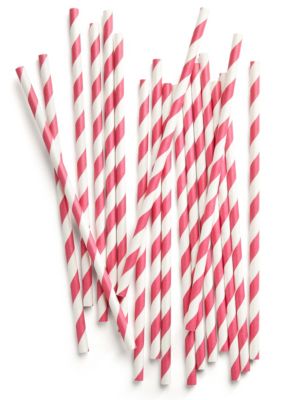 photo courtesy of weddingshop.theknot.com
5. Using Streamers in Different Ways
I love the idea of using streamers to make "chandeliers" as pictured below. Babies love colors and things hanging above them! I guess that's what makes mobiles so popular. I also like the simple combination of streamers and balloons to decorate the high chair -- a classic style but there are soooo many ways to make it more creative these days. Check out the really cool high chair decoration below.
photo courtesy of misspiggys.co.nz
photo courtesy of choosingtobecolorful.com
6. Homemade Banner
It might take some effort but how cute does a homemade banner look? And it's customized to your taste and theme. I love the idea of putting a simple "one" or "yay" across baby's high chair. I found the one below on Etsy but I think it could be replicated by using some craft paper and streamers too.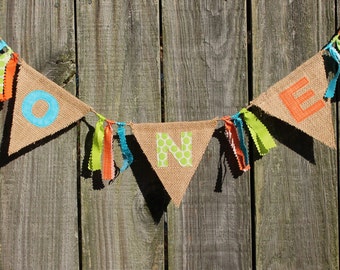 Photo courtesy of Etsy.com
Buy this banner from themoderndaisy shop on Etsy.
7. String Baby's First Year in Pictures on a Clothesline
I love this! The subject line speaks for itself. All you need are baby's pictures, some colored cardboard or doilies for background behind each picture, clothespins and string. A cute addition is cut-out numbers for each month of baby's first year.
I found this image on Pinterest but not sure what the original source was.
photo courtesy of followpics.co
8. Birthday Outfit
Omg! There are so many cute baby first birthday outfits out there. Its hard to pick, but my favorite one is comprised of two words: crochet hat. How cute is that baby's hat? Or the one below him with the onesie and leg warmers? So adorable!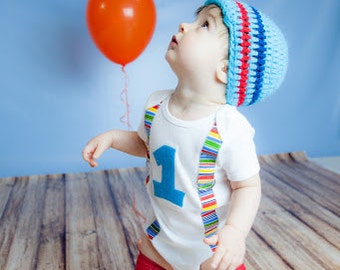 photo courtesy of Etsy.com
photo courtesy of mbasic.facebook.com
Buy this outfit from Chic Couture Boutique's shop on Etsy.com
There you have it. My favorite elements for making a stylish first birthday for your little one! It really doesn't matter how much you make yourself, how much you spend or how much you save, there are some really smart and simple ways to make a baby's first birthday a stylish, special and memorable event.
Check out the collage I put together on Polyvore below with these ideas!