A couple of our friends just got married this past June and to my delight, they incorporated some cultural details from the bride's Indian background as well. The result was a great mix of two cultures and families coming together.
My husband and the rest of the groomsman even got in on the action by sporting Indian clothing throughout the ceremony and reception. Here's a view of his closet.
And a closer look.
One of these things just doesn't belong here. One of these things just isn't the same. Can you get which one is doing its own thing? Now it's time to play our game. It's time to play our game! (Thank you Sesame Street!)
When the idea to do this first arose, my husband, to my surprise, actually told the bride "I'll wear a sari for your wedding!" My surprise came from his reluctance to try on South Asian clothing before and then from his offering to dress in DRAG for her wedding. After being together for over seven years (married for almost 2), I guess I haven't spent much time teaching him the ways of South Asian clothing. Despite my having worn saris as a bridesmaid in several Indian weddings and having my bridesmaids wear saris in our own wedding, somewhere along the way I guess he hadn't realized that a sari was a women's outfit. Needless to say, I probably spent a good long time giggling before I explained why that statement was
so wrong
.
South Asian clothing (including -- but not limited to -- India, Pakistan and Bangladesh) is actually not too complicated but many people are only aware of the name "sari" (it's also spelled saree in publications and websites) and don't know the differences between the different types of clothing. So I thought I would include a refresher on the different types of South Asian clothing. In case you ever go to a South Asian wedding, participate in one or need to buy clothing for one this could come in handy. With so many South Asians in the DMV (DC, Maryland Virginia area), there are a lot of large and traditional weddings. Hopefully this post will be helpful, or at least informative! I hope you enjoy!
So let's start with women's categories. There are several outfits to cover, including the well known sari, lengha choli (literally meaning skirt blouse) or ghagra choli (skirt blouse in the Punjabi language), shalwar kameez (loose pants and tunic, which also comes in different forms like a pajama and an anarkali (discussed below)), gharara (wide leg bottoms cut in a specific way with shirt or tunic) and sharara (also wide leg bottoms and shirt or tunic). Side note: in Pakistan they refer to a
sh
alwar (pronounced shal-
v
ar) kameez (ka-meez) but in India they call it a
s
alwar (sal-war) kameez, which has to do with the differing alphabets and language history of Urdu and Hindi, the national languages of each country, respectively. Also, depending on where someone is from regionally, the ways they wear their clothing and what they call it will differ based on the local traditions and regional dialect. I'm using a northern Indian, Pakistani, Punjabi (Punjab = province in both India and Pakistan) perspective. Growing up with so many family parties, weddings and religious holidays, I've worn all of these on at least one occasion.
A sari is a length of fabric about five to six yards long (maybe shorter or longer, I actually have never measured mine but approximated this) and is paired with a cropped blouse and a skirt with a tie waist called a petticoat. The fabric of the sari is wrapped in layers and pleated around the petticoat and then pulled over one shoulder with a trail of fabric hanging off of the back of the shoulder (this trail hanging over is called the pallu (pa-loo)). It looks like this:
This is my absolute favorite sari I've seen this year!
The sari photos, and many of the ones below except for those captioned otherwise are courtesy of
Seasons India
, one of my favorite websites to browse South Asian clothing online. As you can see, the models are showing off a lot of their midsection but for the most part, saris tend to cover a bit more of the tummies even with a more sheer material and because of the length of the petticoats, which have to be tied a bit higher. These models are just exhibiting these for the camera mostly!
The tail end of a sari can also be pulled over the front of the blouse. This style is called Gujarati style after the province (Gujarat) that it originated in.
Photo courtesy of www.indianshaadi.org
To wrap a sari, which can seem pretty complicated, here's a video tutorial.
To add to the confusion or for your enlightenment, which ever way you'd like to view it, there are several other ways to wrap a sari based on what region in South Asia a person is from. There are tons of web tutorials on these as well.
A lengha (len-ga) choli (or ghagra (gug-ra) choli) is a skirt with a blouse. Also just called a lengha or ghagra. They are always paired with a "veil" called a dupatta (doo-pa-ta) or a chunari (choo-na-ree) in Urdu and Hindi -- these are just different words for the same veil. If you don't carry your veil with you, your outfit is considered incomplete. I've definitely had people say something to me when I've left mine behind before! The lengths and styles of blouses vary depending on what is in fashion. This also goes for the skirts which may range from a traditional A-line to a mermaid style.
Next is a shalwar kameez or salwar kameez, pronounced as one or the other depending on where one is from. Shalwar refers to the baggy pants paired with a tunic, called a kameez (ka-meez). This is actually one of the more common everyday and formal outfits worn. They're easy to move in and dance in. Also note, they also always come with a dupatta (AKA chunari) and the same rules apply!
It can also be varied in terms of tunic and pant lengths and style depending on what's in fashion at the time. Shalwars are classically loose but a tighter skinny style, called a pajama is very much in fashion these days. Here's a pajama shown below for you. If the bottom is bunched up
a lot
around the ankle
,
to an exaggerated extent, it's called a churidar (choo-ree-dar) pajama.
And here's another version called an anarkali (a-nar-ka-lee). It's where the top is cut in a dress style with a fitted waist that flares out into an A-line skirt over pajamas.
Another note: a "kurta" (koor-ta) is also a term for a top but, in my family, it's mostly used when referring to mens' formal wear.
Ghararas (ga-ra-ra) and shararas (sha-ra-ra) are not seen as often but their popularity also comes in waves. Ghararas were very popular in Pakistan and India in the 1960's, and as such, my mom has passed on several to me from the good ole days. They also just seem to have been more popular in Pakistani fashion. They're pretty fabulous I must say. And yes, they traditionally do come with a veil as well.
Gharara, courtesy of Deemasfashion.com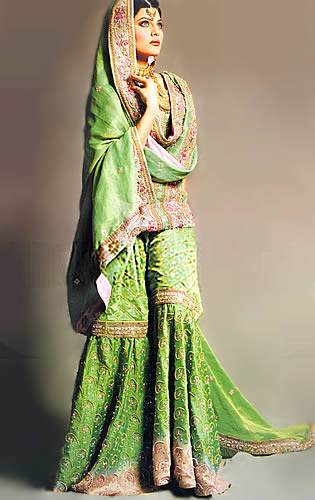 Gharara, courtesy of theheer.com. Can you see how both legs look like one long skirt when together?
This is a sharara courtesy of fashno.com
The subtle distinction between the gharara and sharara is in the legs. The gharara usually has a distinct separation between the top and bottom of the pant at the knee which flares out into a wider leg, like two wide legs which are more pleated at the knee level and flare out at the knee, while a sharara is just two super wide legs. Confusing enough for ya? I can't even get all the little distinctions between all these outfits correct myself some of the time!
Here are a couple of outfits I own which my mom had bought me as gifts for my wedding, to wear to other fancy South Asian occasions as a new bride. I've yet to break them out and am itching to get a chance sometime soon.
Shalwar kameez in a halter style top with shalwar on the left and veil draped across the top.
Lengha
Some up close detail of the lengha.
Love this bead work!
Finally, moving on to men's fashions. Men usually wear shalwar kameezes (baggy pants and tunic), kurta pajamas (skinny pants and tunic) and sherwanis (pronounced: sher-va-ni) (button-down fancy tunics and pants of some sort). Sherwanis and kurta pajamas are usually worn for more dressy occasions.
Casual style men's shalwar kameez. There is a benefit to the baggy pants and long top... comfort!
This guy looks like he's smelling something...
Image courtesy of www.dressrepublic.com
Fancy men's shalwar kameez, complete with baggy shalwar (pants) courtesy of www.utsavsarees.com.
Simple kurta pajama, along with shoes called khusa (pronounced koo-sa) - the term for one of these style shoes. Image courtesy of www.aweardresses.com
Fancy kurta pajama with scarf and khusa. Scarf is used for more formal occasions like weddings. Image courtesy of www.nihalfashions.com
Men's sherwani, also with khusa. Very fancy top that is usually embroidered and buttons down the front. Usually worn during weddings. Image courtesy of www.nihalfashions.com.
So... with all that being said, here is how my husband ended up with a kurta in his closet which he wore as a groomsman in the June wedding. Just by first volunteering to wear a sari! These looked great on all the groomsmen by the way! I love it when people wear traditional clothes of another culture. Needless to say, I found my husband so handsome in this and he carried this look off amazingly well.
Since it wasn't an all Indian wedding, I left the South Asian clothes at home and went with this dress instead. I love the detail and bead work which really evokes the detail included in South Asian clothing as well.
Yep! This is THE dress I've been talking about for weeks now! I loooove it!
These details of sequins, stones and lace are gorgeous!
Paired with the necklace, bracelet and earrings I got from my jewelry party!
I get to wear these shoes again too! Yay! Sparkle and shine all go together in this look. Particularly because the bright orange color balances out the sequins on the dress so the accessories have room to shine!
We had a great time at the wedding. I'll include some more on those details later on. For more ideas on outfits for South Asian affairs, check out this collage I put together on Polyvore.